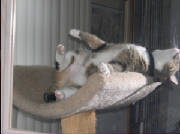 "Joy . . . is the skill of experiencing; it is practice itself."
"Healthy mind in a healthy body" has been known since antiquity.
Sobras Institute takes it Five Steps further:
Step 1: Healthy choices are made by healthy people who are comfortable with themselves.
Step 2: Suffering is not a mandatory component of success, creativity or life in general.
Step 3: Many people know what they want, but very few people know how to make the right choices to get there.
Step 4: Making good choices is an art.
Step 5: We train our scholars to become artists who enjoy the process of creative work on their Self.
OUR MISSION: Effect positive changes in the world by increasing the number of people who are healthy, peaceful and comfortable with themselves and who, by their commitment to joyful personal harmony, shall make healthy choices for the Earth.
OUR METHODS: Research, design and share practical skills of high levels of self-efficiency, stress resilience, conflict resolution and physical fitness.
OUR GOAL: Assist our scholars in becoming successful in whatever they undertake and achieve professional satisfaction without sacrificing their health.
OUR HOPE: That our graduates inspire others to do the same.
OUR COMMITMENT: Proceeds (after taxes) from our seminars, courses and sales of learning materials are used to support animal welfare and wildlife habitats.
OUR TERRAIN: Sobras methods, our manual and practice CD have been used successfully by professionals in the field of business, executive coaching, service oriented organizations, human resource training and development, sports education and training, medical facilities, clinical therapy sessions and cancer treatment centers in the United States, Canada, Australia and Europe.
OUR PLEDGE: We do not sell to or share any information (including emails) with anybody.
Inquiries about individual and group studies can be addressed to sobras.institute@gmail.com
News from around the world:
If you understand Hungarian, follow our Founder Dr Ormos through history as she explores messages from the ancients on healing, Rovas script and the roots of wisdom by clicking on the link below:
http://rovas.info/index.php/hu/mveszet/2370-osi-gyokerek-hetedhet-orszagban-1